DDC Launches New Brand Identity
In April, DDC launched our new brand identity. Reenergized and reimagined, the brand reflects the essence of our organization while highlighting our valued people, rich culture, proven business, client-focused missions, and future aspirations. Just as the Navajo Nation upholds a storied history, DDC preserves a vibrant legacy that we continue to celebrate while striving to reach new heights – within our organization, in support of our clients and partners, in partnership with the Navajo Nation, and among our community. As our family of companies evolve, we affirm our 17-year commitment to our clients and the Nation while heralding a new era of strategic growth. Guided by our refreshed vision, mission, and core values, our new brand identity cultivates this ideal.
In alignment with Vision 2025, our rebrand effectively positions us in becoming a premier IT, professional, and environmental service provider; employer of choice in the industry; and trusted partner for our clients and the Navajo Nation. Our strategic growth continues to propel us into the future, as displayed by the expansion of our lines of business, operating locations, client portfolio, and employee base. 2021 specifically has brought continual growth in the founding of our newest subsidiary, Red Canyon Technologies, as an IT and space services company. Through our expansion, we strive to create sustainable prosperity for the Navajo Nation and communities we serve.
With the launch underway, we encourage you to view our new look and feel online! Check out our refreshed website at www.ddc-dine.com. View our new brand identity on our Facebook, LinkedIn, and Twitter pages. Watch the We Are DDC video on our social media platforms to visualize our journey of growth, diversification, and empowerment of the Navajo Nation. We are Mission Focused. Legacy Inspired. Community Driven. We Are DDC!
Inspired by acceleration and growth, our logo stands at the forefront of our brand identity. It characterizes our brand attributes and strategic focus while highlighting our DNA as rooted in the Navajo culture. Weaving plays a key role in the creation myth of Navajo cosmology, which articulates social relationships. Woven Navajo tapestry is one of the core elements of the Navajo economy. Navajo textiles/weavings became the trademark known for strong geometric patterns and use of the warp as one continuous length of wool strand. Today, weavings continue to play a role in Navajo culture and commerce. The cascade of triangles also represents the corn pollen offerings made by Navajo ancestors with wonderous prayers since time immemorial.
Lewis Campbell, DDC IT Director and member of the Navajo Nation, provides his perspective of the Navajo textile inspiration: "The triangles gradually fading from the left immediately makes me think of a traditional rug pattern, but more importantly, the fading reminds me of the process that unfolds before you as if you were sitting and watching grandma patiently weave over time. Even before she starts weaving, there are many elements that contribute to the preparation – raising and shearing the sheep, identifying plants to dye the wool, dying the wool, spinning it, and weaving the rug. Even a traditional sheep butchering, in which everything is used and the whole family joins, is part of that process, which elicits elements of community and heritage woven throughout the brand."
Leverage our legacy to advance the future of the Navajo Nation and achieve sustainable community prosperity. 
To provide government agencies and commercial organizations with high quality IT, professional, and environmental services that support our clients' missions while building upon the legacy of the Navajo Nation to elevate our people and the communities we serve.
Commitment to Excellence
Unwavering Integrity
Community Conscious
Devoted Service
Bold Ingenuity
Heritage Inspired
Our brand essence is the foundation of our brand and represents the core identity of our organization. As we internalize the vision, mission, and core values, we strive for excellence through the embodiment of our universal, refreshed identity. We illustrate who we by embracing our differing, yet vital contributions for the collective success and growth of the organization.

We are
MISSION FOCUSED.
LEGACY INSPIRED.
COMMUNITY DRIVEN.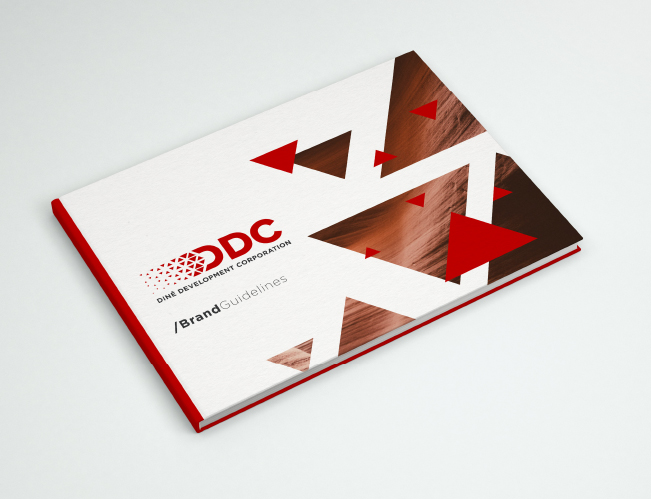 A vital asset of our brand is our comprehensive DDC Brand Guidelines, an official and developing policy that formalizes the brand for marketing purposes. This key document will enable content creators to communicate a consistent message to standardize on-brand content. It communicates DDC's design standards to ensure that we maintain professional, consistent, recognizable marketing collateral. These guidelines are composed of four sections: Brand Architecture, Messaging Mechanisms, Style Guide, and Subsidiaries. We encourage you to check out this document, which resides on SharePoint in the Document Center > Marketing Resources folder.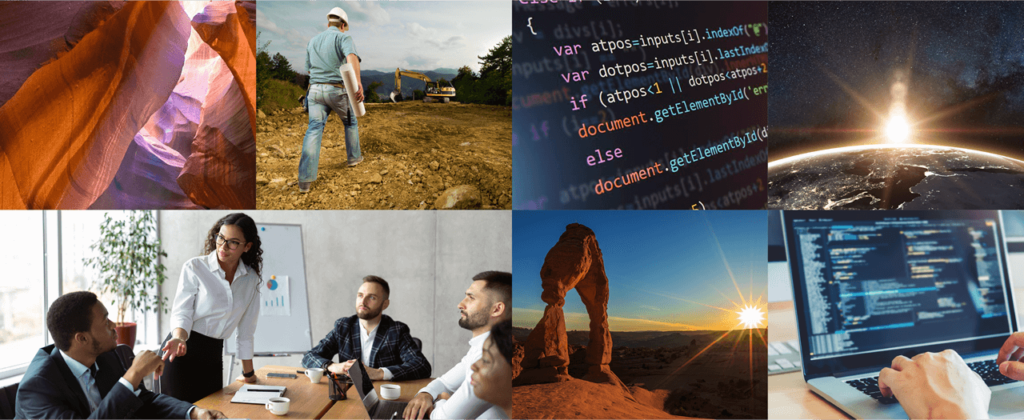 Sample imagery that aligns with DDC's new brand identity
Subsidiary Brand Development
With DDC's rebrand underway, we have kicked off our family of companies' brand developments. Similar to DDC, the processes will result in reinspired brand architectures, communication mechanisms, and visual representation. DDC Marketing and our Agency of Record, the Phoenix Lifestyle Marketing Group, will continue to lead the brand development and rebrand processes of our subsidiary companies in a sequential approach. The brand development process was initiated by Red Canyon Technologies, followed by NOVA-Diné and DDC ITS. Diné Source is nearing its start, followed by BRIC, DDC 4C, and North Stone. We thank you for your patience as we adhere to the cadenced approach to ensure that our brands are effectively and successfully launched!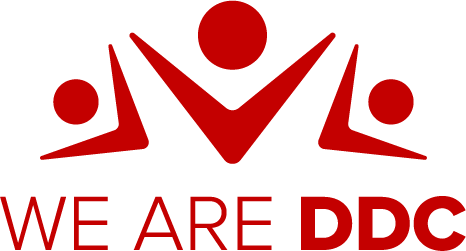 Since 2004, DDC has been committed to generating economic prosperity for the Navajo Nation and communities we serve by providing high-quality IT, professional, and environmental services. Through strategic growth and development of subsidiaries, we have continued to enhance DDC's capabilities and advance the Navajo Nation's economic sustainability.
As an integral component of Vision 2025, DDC established a new identity that will be reinforced through our 2021 Campaign, We Are DDC. We Are DDC is a communication and engagement campaign that introduces our reinvigorated brand identity, garners excitement for our look and feel, and motivates us to live DDC's vision, mission, and core values. To achieve the campaign objectives, DDC Marketing will reinvigorate all of you, our brand champions. Through this goal, we aim to instill a great sense of pride as part of DDC as we reinspire a renewed sense of commitment towards the organization's purpose now and into the future.
LOVE Award Program Introduces New Logo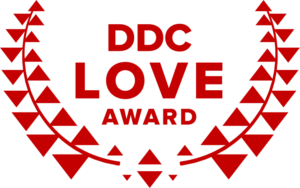 Every quarter, DDC and family of companies recognize outstanding team members with the Living Our Values Everyday (LOVE) award. The recipients of these awards go above and beyond every day to further our companies' missions. As part of our 2021 Campaign, DDC Marketing developed a DDC Love Award logo that will fuel the growth of the program.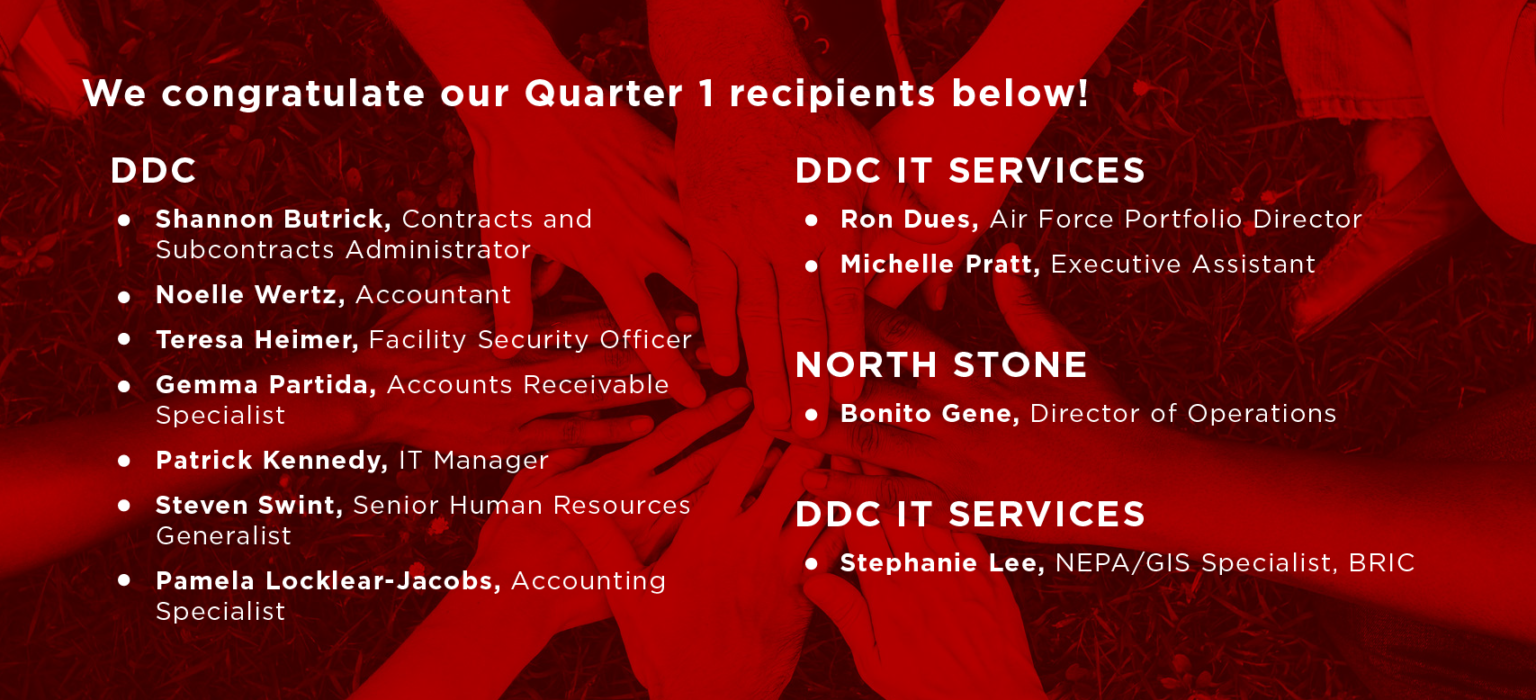 As the newest subsidiary in the DDC family, Red Canyon Technologies launched operations in May 2021. In the near future, we plan to become certified in the 8(a) Business Development Program as we expand our core capabilities in space operations planning, IT services, and change management in support of federal agencies.
Our team is led by Jeff Abney, President, and Dave Whaley, Portfolio Director. Jeff joined the DDC family in 2016 as DDC IT Services Air Force Portfolio Director, and in 2017, assumed the role of President. In his dual Presidency roles, he will lead both companies in expanding in the IT services and space markets. Jeff is an accomplished leader with more than 20 years of experience and expertise in IT management. He earned his Bachelor of Science in Management Information Systems from Wright State University. Jeff is also a veteran of the United States Air Force, wherein he spent four years in an overseas tour in Berlin, Germany. Jeff is based out of the Dayton, OH office.
Dave Whaley joined the DDC family in 2020. He brings a wealth of expertise in space operations and IT services across the Department of Defense and National Security Space enterprises. He recently retired from the Army as a Space Operations Officer, in which he supported the development of two new DoD space organizations. He earned his bachelor's degree from Ohio State University and Master of Science in Space Operations from the American Military University. He served in the Army for a total of 27 years, and he is currently based in Colorado Springs, CO.
Red Canyon is committed to providing clients with best-in-class service by leveraging our technical experience, industry expertise, broad shared services capabilities, and the Navajo legacy of innovation. Through our work, we strive to push through present-day frontiers to future horizons in order to elevate the Navajo Nation.
Aligned with DDC's logo, we are inspired by acceleration and growth. Our logo illustrates these attributes while highlighting our DNA as rooted in the Navajo culture of innovation and precision. Red Canyon's logo is composed of DDC's brand mark. The triangles and resulting arrow are incorporated into the subsidiary's name to both convey advancement and innovation and reinforce the affiliation with DDC. The arrow also illustrates a Navajo shield that early warriors used to protect themselves from spiritual and human warfare. These shields were representative of the ultimate universal laws that are central to the Diné, k'e, the wondrous and balanced relationship between Mother Earth and Father Sky. Within it, these natural laws govern from the depths of the earth to the universe for the good of life. These elements work in a divine rhythm for the sustainment of the world's five fingered people, fauna, and flora's seasons and purposes. This harmonious relationship between the earth and universe is the source of the Navajo legacy fire of innovation, thus the inspiration for Red Canyon.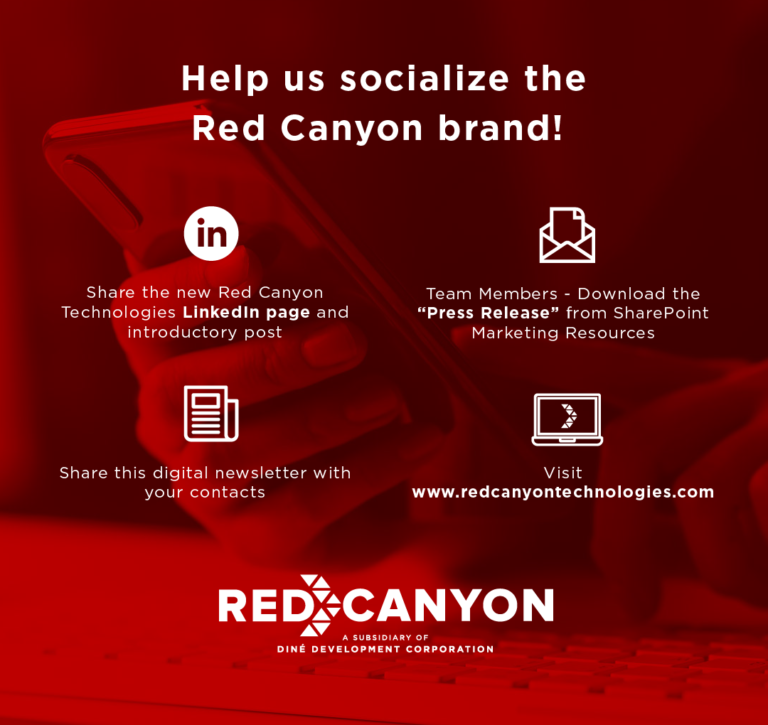 NOVA-DINÉ Awarded DIA Site III Contract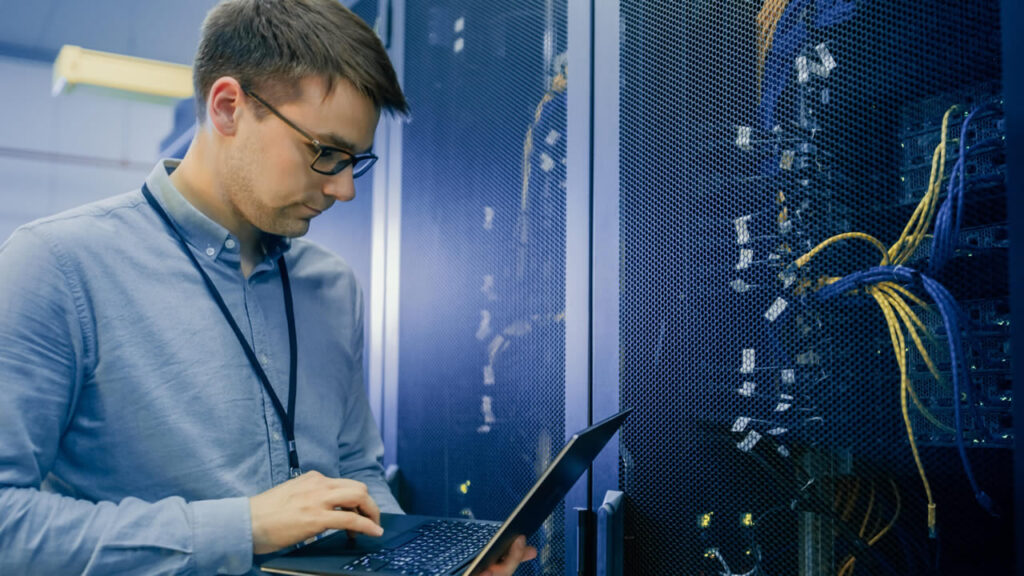 NOVA-Diné was awarded the Defense Intelligence Agency (DIA) Solutions for the Information Technology Enterprise III (SITE III) indefinite delivery, indefinite quantity contract. Under the $12.6B, ten-year contract vehicle, NOVA will provide DIA and National Geospatial-Intelligence Agency (NGA) with IT services in support of warfighters, acquisition leaders, and policymakers across the Defense Intelligence Enterprise.
NOVA's team will deliver a wide range of technical and professional support, including but not limited to: technology assessment, systems engineering, operations support, network support, web services, information assurance and security, and training. The team will ensure the integrity and reliability of DIA and NGA's infrastructure to advance their missions in support of military intelligence.
"Congratulations to our team, including Summit Technologies, ManTech, and Apollo Technologies Group," stated Don MacDonald, NOVA President. "We look forward to a long, successful partnership with the DIA and NGA in support of their vital missions."
BRIC Announces Office Move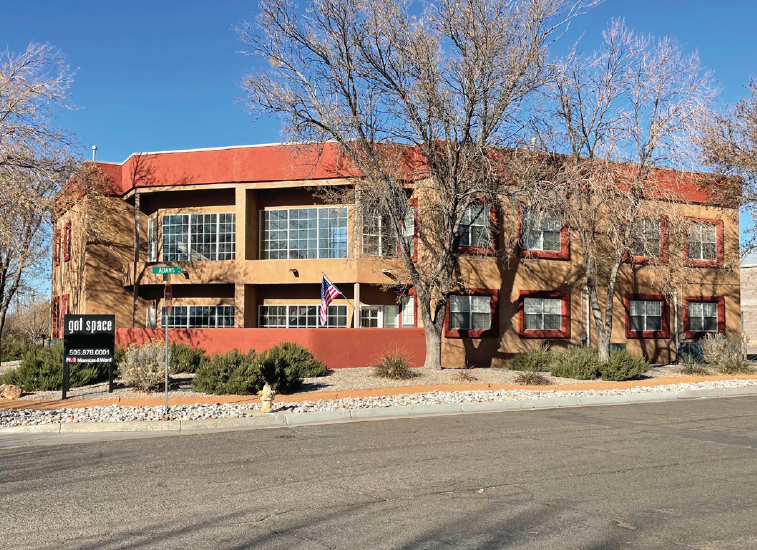 BRIC is pleased to announce the relocation of our Albuquerque, NM office. We will be moving from our current location at 5001 Indian School Road NE, Suite 200 to 8901 Adams Street NE, Suite B.
"We are excited to relocate to our larger office in Albuquerque," commented Kevin McCracken, BRIC President. "This move represents another milestone for company. The new office space enables us to continue to provide BRIC's customers with premier environmental consulting across the Southwest U.S."
DDC 4C Awarded U.S. Forest BPA
The U.S. Forest Service awarded DDC 4C with the Reforestation Non-Native Invasive Species (NNIS) for Francis Marion Sumter (FMS) National Forest and Savannah River Site (SRS) contract vehicle. Under this five-year, $6.5 Million Blanket Purchase Agreement (BPA), the DDC 4C team will perform reforestation support services across FMS National Forest and SRS in South Carolina. In support of the USFS, we will provide tasks including chemical site preparation, tree planting, mechanical site preparation, pre-commercial thinning, timber stand improvement, and non-native invasive plants (NNIP) treatments.
"Congratulations to the DDC 4C team on this notable award," stated Allan Stoddard, DDC 4C President. "The award expands our client portfolio and national footprint as we support our new customer. We look forward to our partnership with the U.S. Forest Service for many years to come."
Human Resources: Who Do I Contact?
Wondering who you should contact with HR-related questions? With new team members in the DDC HR Department, Lara Skutt, HR Director introduces her team's roles and responsibilities:
Steven Swint, Senior HR Generalist
Employee Relations
Training
Performance Management
Gwen Jensen, Recruiting Manager
Recruiting Group Leader
ATS Management
Recruitment Training/Compliance
Strategic Hiring Procedures
Active Recruiter
Jessica Flanagan, HRIS Administrator
HRIS System Administrator
Data Input/Output
HRIS Liaison
Sharon (Stitely) Fernando, Senior Recruiter
Active Recruiter
Requisition Management
Candidate Sourcing
Recruitment Process Tracking
Offer Management
Karin Rodriguez, Senior Recruiter
Active Recruiter
Requisition Management
Candidate Sourcing
Recruitment Process Tracking
Offer Management
Corey Brown
Ted Collins
Pamela Kearney
Brett Martin
Jeffery Norman
Anthony Paul
Joseph Snell
Joseph Benge
Jordan Ganuza
Joshua Madson
Brice Ndzankang
Franklin Nga
Victoria Savage
Victoria Shelton
Shannon Strong
Christina Billie
Roger Oberdier
Kalen Roe
Austin Schoenkopf
Teterrion Blackmon
Laticia Carrow
Austin Crudele
Ned Einsig
Stephen Govan
Michelle Hussey
Mark Lewis
David Lister
Daniel Patton
Jonathan Price
Raffel Smith
Matthew Volck